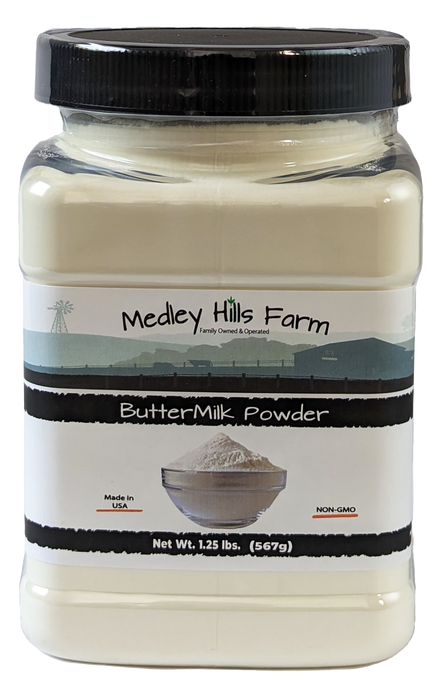 Buttermilk Powder
Original price
$ 13.99
-
Original price
$ 20.99
Availability:
in stock, ready to be shipped
Availability:
Out of stock
Buttermilk Powder is a great alternative to liquid buttermilk or sour milk in your favorite recipes. This powdered milk is made with quality ingredients, sourced right here in the USA and it can be used in a range of recipes including pancakes, breads, waffles, biscuits and ice creams. Buttermilk Powder is incredibly versatile, you can add it directly to the dry ingredients or mix it with water for a richer flavor. With no preservatives and nothing artificial, you can enjoy smoother batters that will rise properly in the oven as well as thick creamy ice cream. For delicious easy to make meals and treats, Buttermilk Powder is an essential ingredient for any kitchen. It is a convenient solution for adding that classic buttermilk taste to your favorite recipes. Packaged in a resealable container for freshness, elevate your culinary creations with our Buttermilk Solids today!"
Check out our Blog for more information!
"Buttermilk Powder 101: A Guide to Enhancing Your Cooking Skills"
Ingredients:
Whey Solids, Buttermilk Powder, Nonfat Dry Milk
**Contains: Milk Ingredients.